"THREE RIVERS ALFISTI" LAUNCHES AS NEW ALFA ROMEO OWNERS CLUB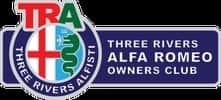 Contact:              
Bernard Martin, Secretary
Three Rivers Alfisti
P:  412-996-5700
"THREE RIVERS ALFISTI" LAUNCHES AS NEW ALFA ROMEO OWNERS CLUB
PITTSBURGH, PA – July 13, 2017 – "Three Rivers Alfisti" has officially launched as the first Alfa Romeo Owners Club Chapter established in the United States in approximately 20 years.  The local chapter is recognized and affiliated with the National Alfa Romeo Owners Club.  New and current Alfa Romeo owners may join by visiting http://www.aroc-usa.org/membership/.  At 2pm on Saturday, July 15 during the Italian Cortile at the Pittsburgh Golf Club, the Three Rivers Alfisti and all interested members are invited to gather to celebrate the launch.
Three Rivers Alfisti is based in Western Pennsylvania with membership throughout the Tri-state area.  Membership comprises the Western side of the Appalachian Mountains up to Erie, PA, into South-Eastern Ohio and Northern West Virginia.
History
In the late 1970's Howard West, Don Wannagat, Kevin Benzenhoefer and several others initiated the development of an Alfa Romeo Owners Group in the Pittsburgh area called "Allegheny Alfisti". Several meetings where held over about 3 years, but the club wasn't able to get up and running.
In 2010, during the Pittsburgh Vintage Grand Prix's Cortile Italian Car Show, Alfa owners, Marianne Fenoglietto and Jim Shaw, started discussing the idea of creating an AROC chapter in Western Pennsylvania. The idea was discussed for quite a number of years, but again no one could really take the mantle of leadership to get a club launched.
In 2016, Ron Lewis Automotive Group became the only local Alfa Romeo dealer in the Pittsburgh area.   In April 2017, Ron Lewis Alfa Romeo hosted a launch event for the 2017 Alfa Romeo Giulia, which was attended by many local Pittsburgh Alfisti.  The idea for an Owners Club Chapter was again revisited.  Jim Neville and Bernie Martin, both Alfa owners, collaborated with Gwen Lewis from Ron Lewis Alfa Romeo on pursuing the Chapter formation and launch.
Three Rivers Alfisti Founding Officers
Jim Neville, President – Jim is a long-time Alfa enthusiast and owner of an award winning 1967 Duetto Spider.  He is Vice President of Oil and Gas at Equipment & Controls, Inc. in Pittsburgh PA.  "It's perfect timing for the Three Rivers Alfisti to officially kick off at the Cortile Italian Car Show Saturday July 15, 2017," said Jim Neville, First President of Three Rivers Alfisti.  "Alfa Romeo's return to the US, and the launch of our new Chapter, present a great opportunity for owners to share their love for these automobiles."
 Gwen Lewis, Vice President – Gwen is also Vice President of Marketing/Online Operations at the Ron Lewis Automotive Group.  Ron Lewis Alfa Romeo (www.ronlewisalfaromeo.com) is the newest franchise addition to the family-run dealership group.  "To celebrate the launch of our Chapter, Ron Lewis Alfa Romeo will subsidize a 1-year Standard membership of any new Alfa Romeo customers July 15, 2017-December 31, 2017," said Gwen Lewis.  "We're excited to welcome our customers to the joys of Alfa Romeo ownership and to introduce them to a local group who share the same affinity."
Bernard Martin, Secretary/Webmaster – Bernie is the Founder and President of Rapid Production Marketing in Pittsburgh.  In 2009, Bernie created the Italian Cortile in conjunction with the Pittsburgh Vintage Grand Prix.  Owner of a 1988 Alfa Romeo Spider, Bernie completed a 2,890 mile round trip journey to the Amelia Island Concours d'Elegance in March 2017 in his Alfa.  "We're already receiving positive feedback about forming the Three Rivers Alfisti," said Bernie Martin.  "All the pieces are in place to make this Owner's Club a success after many years of trying."
About the Three Rivers Alfisti
Founded in 2017, the Three Rivers Alfisti's mission is to foster and promote activities not for profit, relating to the ownership, operation and history of Alfa Romeos; to make available and to disseminate technical information useful in promoting knowledge and understanding for the efficient and safe operation of Alfa Romeos; to organize social, educational and amateur tour driving events; and to teach, promote and encourage safe and skillful driving in both competition events and upon public highways. For more information and membership links, visit http://3riversalfisti.weebly.com/.