RON LEWIS AUTOMOTIVE GROUP NAMED "BEST CAR DEALER OF 2017"
Contact:              
Jodi Scranton, Ron Lewis Automotive Group
jscranton@ronlewisautomotive.com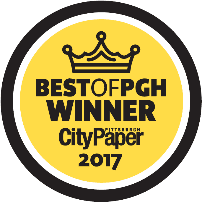 PITTSBURGH, PA – October 18, 2017 – Ron Lewis Automotive Group today announced it has been named "Best Car Dealer of 2017" in the 2017 "Best of Pittsburgh" Reader's Poll in the Pittsburgh City Paper.
"We are thrilled and grateful for both the nomination and the award," said Gwen Lewis, Co-President of the Ron Lewis Automotive Group. "This is the kind of fuel that energizes us to keep delivering a remarkable experience to our customers.  Thank you, Pittsburgh!"
Since 1992, Pittsburgh City Paper has annually published its "Best of Pittsburgh Reader's Poll." The poll provides readers a chance to vote for their favorite Pittsburgh businesses, leaders, food, music and places.  The 2017 installment of the "Best of Pittsburgh Reader's Poll" received a record number of responses. More than 28,200 CP readers participated. Between July 28, 2017 and August 18, 2017, more than 162,000 votes were cast.  The winners and runners-up were announced in the October 18, 2017 issue of Pittsburgh City Paper. Winners will be celebrated at the 2017 Best of Pittsburgh Party on October 19, 2017 at the Ace Hotel in East Liberty.
About the Ron Lewis Automotive Group
 Founded in 1975, today the Ron Lewis Automotive Group has grown to over 300 employees and seven dealerships located in Pleasant Hills, Waynesburg, Cranberry and Beaver Falls.  Our group comprises:   Ron Lewis Chrysler Dodge Jeep Ram Pleasant Hills; Ron Lewis Ford Beaver Falls; Ron Lewis Chevrolet Beaver Falls; Ron Lewis Kia Beaver Falls; Ron Lewis Chrysler Dodge Jeep Ram Fiat Cranberry; Ron Lewis Chrysler Dodge Jeep Ram Waynesburg; Ron Lewis Alfa Romeo / Pre-Owned Cranberry.
Our mission is to pleasantly surprise our customers with a remarkable vehicle purchase and ownership experience.  We do this by remaining committed to our customers' experience and remaining competitive on selection and price.  Today "We Have Your Keys℠" to over 1,500 vehicles in inventory, offer two body shop locations, are home to Pittsburgh's Souped Up Jeep℠ and Souped Up Truck℠ services, offer the only Souped Up Garage on the East Coast, and sell everything from under-$9,000 used cars, to heavy duty trucks, to high performance SRT vehicles.  Ron Lewis Automotive now proudly offers "On-Demand" services, including test drives, trade appraisals, "Buy Online" capability and vehicle delivery to a customer's home, office, or location of choice.  To learn more about our organization or to shop for your next vehicle online, visit us online at www.ronlewisautomotive.com.
About the Pittsburgh City Paper
On November 6, 1991, the Pittsburgh City Paper published its first edition. Since then, the free, multiple-award-winning alternative weekly — the 13th largest in the nation — has published every week, providing readers with unparalleled news, arts and entertainment coverage and daily updates on its website, www.pghcitypaper.com. City Paper's goal is to cover stories in the City of Pittsburgh that might not otherwise be told.
# # # #