Welcome to "Buy Online" From Ron Lewis Automotive
"We're bringing our dealerships to you, and allowing you to shop on your terms, by putting the information you need at your fingertips – even if that's on your couch, or at your office, or at 2am," said Gwen Lewis, Co-President, Ron Lewis Automotive Group. 
BUY ONLINE — For Pick-Up or Driveway Delivery! 
The Ron Lewis Automotive Group has offered "Buy Online" check out for car shoppers since 2016. Our goal is to deliver you FAST, EASY, EFFICIENT car shopping and buying — on your terms. 
Frequently Asked Questions about "Buy Online" from the Ron Lewis Automotive Group:
Q:  Is there an actual transaction with money that happens when I hit the "buy online" button? 
A:  No, not yet.  You will be asked to complete an "order workflow" that allows you to choose various options for warranty, financing, and delivery.  Once we receive your "order" we will verify the information and confirm the specifics of the deal with you.  We will reserve the vehicle for you once we receive your order.  If we are unable to reach you to confirm the details, we unfortunately won't be able to keep the vehicle on hold. We can feasibly receive your order and accomplish same day delivery depending on your location!
Q:  What if I would like vehicle delivery, but I live beyond 100 miles away from the Ron Lewis Automotive Headquarters in Pittsburgh? 
A:  We're happy to work with customers from all over the country!  Yes, a buyer who lives more than 100 miles away can still place an order online.  Shipping costs will be calculated and presented to you during the ordering process.
Q:  Ok so, my credit rating isn't as good as I made it out to be on the order, nor is the condition of my trade…
A:  Well, if our customer isn't truthful about their credit rating, when we verify it, the deal most likely won't proceed as the order was placed.  However, at that point, our finance team will still work with you on structuring a deal that is appropriate for your credit level and financial situation.  Similarly, in the "Buy Online" check out flow, you will be advised that if your trade is not what you portray it to be, the valuation is pending in-person inspection and will be subject to cause the deal to be re-negotiated.  Bottom line is, all points of the online order are subject to verification, and providing us the facts will help us get you in the right vehicle!
Q:  Do you have any fancy vending machines?
A:  No "fancy" vending machines are needed or used for online car buying with the Ron Lewis Automotive Group! However, each of our dealerships is equipped with a few snack and beverage vending machines if you choose to visit us on-site.
Q:  Has anyone actually bought a car using your system?
A:  Yes!  Since we've begun offering "Buy Online" we've had hundreds of customers click the button. Some have been local, and some have been out of state customers.  Some have been on new vehicles, some on used.  One customer even hit the button from a hospital room and came in the next day to take delivery of his vehicle!  We're excited about offering a convenient way for people to shop comfortably for their vehicle on their terms – whether that's at home, office, on your couch, or at 2am.!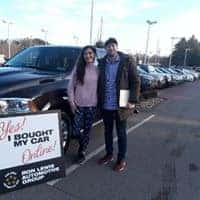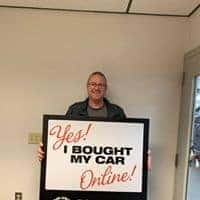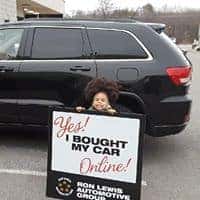 You've done hours of research…You're ready!  Let's Get Started!  Buying your next vehicle online is just a few clicks away…