Ford Drive 4 UR Community Event – May 4, 2019
RON LEWIS FORD BEAVER FALLS INVITES YOU TO A TEST DRIVE FUNDRAISER & COMMUNITY EVENT!
Ford "Drive 4 UR Community" Event Will Raise Up To $6000 for FOCUS West Central PA.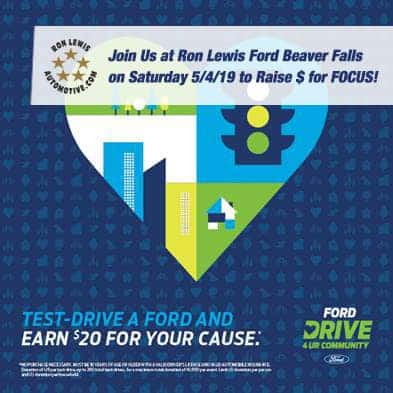 On Saturday, May 4th, 2019, members of the Beaver County-area community will have the opportunity to raise money for FOCUS West Central PA by test-driving a Ford vehicle. Ron Lewis Ford is working to help raise up to a maximum of $6,000 in support of FOCUS as part of Ford Motor Company's Drive 4 UR Community program. For every person who test-drives a new Ford vehicle at this one-day event, Ford Motor Company will donate $20, up to a maximum of $6,000, to FOCUS.
The FOCUS backpack program provides weekend meals for almost 200 students in the Beaver Falls School District. FOCUS also provides a monthly breakfast for local families facing poverty and an emergency pantry providing non-perishable food, clothing, and household and hygiene items to help families and individuals in need.
*NO PURCHASE NECESSARY. MUST BE 18 YEARS OF AGE OR OLDER WITH A VALID DRIVER'S LICENSE AND VALID AUTOMOBILE INSURANCE. Donation of $20 per valid test drive, up to 300 total test-drives, for a maximum total donation of $6,000 per event. Limit one (1) donation per person and one (1) donation per household.